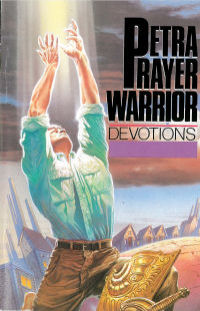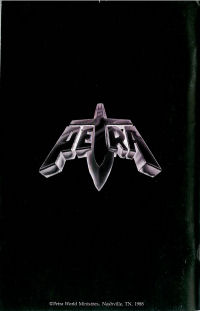 PETRA's album THIS MEANS WAR!, is a call to Christians to take up the armour of God as He provides in His Word. There is a spiritual battle raging every day and each of us has a choice of being on the winning or losing side. That decision is for eternity.
We believe that prayer is the beginning of equipping oneself to be victorious in the battle. The Lord has laid on PETRA a calling to recruit young people to be Prayer Warriors in the battle. We are encouraging individuals and groups alike, to join together in prayer for their friends, family, church, other Prayer Warriors and the ministry of PETRA believing that unity in this effort will ensure that Satan will be powerless in the lives of each Prayer Warrior.
The weekly devotions in this book are not presented as the definitive study on prayer. They are, however, a scripturally sound approach to developing one's prayer life. By applying the principles presented here, and becoming Prayer Warriors, one will develop a stronger walk with the Lord.
The members of PETRA are grateful to Dorla Schlitt for the many prayerful hours spent in study for writing these devotions. We believe that the Lord has guided her efforts.
Week 1
Week 2
Week 3
Week 4
Week 5
Week 6
Week 7
Week 8
Week 9
Week 10
Week 11
Week 12
Week 13
Week 14
Week 15
Week 16
Week 17
Week 18
Week 19
Week 20
Week 21
Week 21
Week 23
Week 24
Week 25
Week 26
Week 27
Week 28
Week 29
Week 30
Week 31
Week 32
Week 33
Week 34
Week 35
Week 36
Week 37
Week 38
Week 39
Week 40
Week 41
Week 42
Week 43
Week 44
Week 45
Week 46
Week 47
Week 48
Week 49
Week 50
Becoming A Prayer Warrior
The Prayer Warrior's Job
"Prayer Warriors" From The Bible
One Or Many?
Getting Started
Knowing Who God Is
Knowing Who I Am In Christ
An Inheritance Is Ours
God Promises Us
Spiritual Authority In Christ
Using Spiritual Authority
How To Pray
The Armour Of God
The Sword Of The Spirit
How To Use The Sword
A Prayer Of Commitment
Spiritual Weapons
Prayer Warrior's Battle Plan
Who To Pray For
Praying For Leaders
Prayer Of Intercession
Prayer Of Dedication
Praise In Prayer
Jehovah - Tsidkenu, The Lord Our Righteous
Jehovah - M'kaddesh, The Lord Which Sanctifies
Jehovah - Shalom, The Lord Is Peace
Jehovah - Shammah, The Lord Is There
Jehovah - Rapha, The Lord My Healer
Jehovah - Jireh, The Lord Provides
Jehovah - Nissi, The Lord Is My Banner
Jehovah - Rohi, The Lord My Shepherd
Drawing Near To God
Praying "Thy Kingdom Come"
Praying "Thy Will Be Done"
Prayer For The Lost - Part 1
Prayer For The Lost - Part 2
Introduction To Prayer For Believers
Prayer For The Believer - Uprightness
Prayer For The Believer - Peace Through Obedience
Prayer For The Believer - Joy In The Holy Ghost
Prayer For The Church - Submission
Prayer For The Church - Unity
Prayer For The Church - Ministry
Prayer For Specific Groups
Prayer For Our Nation - Part 1
Prayer For Our Nation - Part 2
Prayer For Leaders
Prayer For Election Candidates
How To Finish Intercession
Leading A Prayer Warrior Group
Helpful Reading And Study References
3
5
6
7
8
11
13
14
15
16
18
19
20
22
24
26
27
28
29
31
33
35
37
38
40
42
44
45
46
47
48
49
50
52
53
55
57
59
60
62
64
66
68
70
71
73
75
78
80
82
84
Release date

1988

Release

Petra World Ministries

Other details

14 x 21.5 cm 84-page stapled book