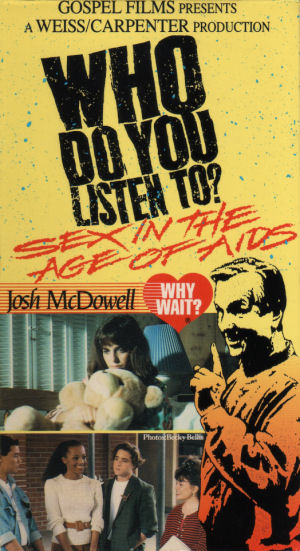 In an age where promiscuity is rampant and a careless sexual encounter can be fatal, here's a powerful media tool that helps your young people make responsible decisions about their sexual behavior.
This powerful film essay features dramatic vignettes, the best in contemporary music from Petra, and real life situations out of today's news headlines which create meaningful discussion when used to launch a program on this important topic.
Directed by an award-winning film maker from USC, and featuring noted author and speaker Josh McDowell, this vital media presentation in the ongoing WHY WAIT? campaign creates a not-to-be-forgotten program when used with young people.
This film, primarily intended for presentation in public school settings, is frank while steering young people towards God's plan for their relationships.
As the on-camera host/narrator states, "we have contemporary rock-and-roll heroes telling us 'sex is best, one-on-one', our ministers telling us, 'sex is best, none-on-none,' and every medical authority in the country telling us that sexual encounter of any king has high potential for contracting a sexually transmitted disease. So WHO DO YOU LISTEN TO?"
Practical answers come from a variety of sources, from the humor of the Preacher in Disguise (PID) rap group to outstanding medical, social, and spiritual communicators in this timely film.
Running time, 37 minutes
A companion product is the Who Do You Listen To? Music Video Soundtrack, featuring four of the songs from this video (Petra, Mastadon, Kim Boyce and P.I.D.).
Director

David N. Weiss

Producer

Ken Carpenter

Release date

1989

Record label

Gospel Films Video