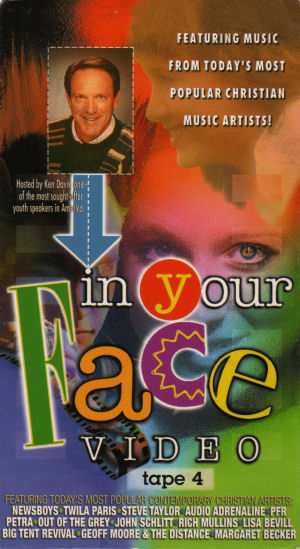 Music + Laughter = Great Teaching
In Your Face is a youth video series designed to hit teens where they live. It tackles real life problems, questions and ideas that teens face on their road trip to adulthood. It also breaks the barriers that separate the generations by using humor, examples and side-splitting stories that serve as a springboard for further discussion.
In Your Face is hosted by Ken Davis, one of the most sought-after youth speakers in America. He provides a unique mixture of humor and inspiration which hits home with a positive message.
In Your Face topics are punctuated by contemporary Christian music from today's favorite artists: Margaret Becker, PFR, Petra, John Schlitt, Rich Mullins, Twila Paris, Out of the Grey, Newsboys, Lisa Bevill, Steve Taylor, Big Tent Revival, Geoff Moore & The Distance and Audio Adrenaline.
00:00 Introduction by John Schlitt

00:18 Session 1 God, What Do You Want? Finding God's Will

02:32 Comments by John Schlitt

03:49 Show Me The Way by John Schlitt

08:04 Session 1 continues

16:53 Comments by John Schlitt

18:00 Session 2: Does Anybody Really Care? Being A Real Friend

22:03 Brother's Keeper by Rich Mullins

25:14 Session 2 continues

Running time, 33:00
Release date

1996

Record label

Dallas Christian Video