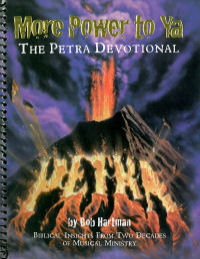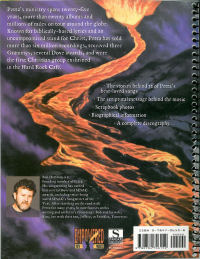 Petra's ministry spans twenty-five years, more than twenty albums and millions of miles on tour around the globe. Known for biblically-based lyrics and an uncompromised stand for Christ, Petra has sold more than six milliion recordings, received three Grammys, several Dove awards, and were the first Christian group enshrined in the Hard Rock Cafe.
- The stories behind 52 of Petra's best-loved songs
- The scriptural message behind the music
- Scrapbook photos
- Biographical information
- A complete discography

Bob Hartman is a founding member of Petra. His songwriting has earned him several Dove and SESAC awards, including twice being voted SESAC's Songwriter of the Year. After traveling on the road with Petra for many years, he now focuses on his writing and on Petra's recordings. Bob and his wife, Kim, live with their son, Jeffrey, in Franklin, Tennessee.
---
I have felt the desire to write this book for quite some time, and my decision to stop touring with the band allowed me the time. Over the many years of Petra's ministry, we have received countless letters from people, telling us how our song lyrics have made such a positive impact in their spiritual lives. We have always placed a great emphasis on making our lyrics biblically sound. We have even received letters from pastors who have used our lyrics as illustrations for their sermons. No greater compliment could be paid to us, and I want to give all the praise and glory to our Lord and God.
During the writing of this book, I was reminded over and over again of God's goodness toward us in allowing us to serve Him for so many years. I pray that the message of this book comes through loud and clear: You don't have to be in a band or speak from a pulpit to serve God! We serve Him every day of our lives when we faithfully follow Him. I hope these writings will bring back fond memories for you as they did for me. But most of all, I hope you are challenged to walk more closely with Jesus, serving Him with passion as the power of God's Word works in your life. More Power to Ya!
Bob Hartman




1
2
3

4
5
6
7
8
9
10
11
12

13
14
15
16

17
18
19
20
21
22
23
24
25

26
27
28
29
30
31
32
33
34

35
36
37
38
39
40
41
42
43
44
45
46
47
48
49
50
51
52
Dedication
Table Of Contents
Foreword
Petraspective 1974-1979
Walkin' In The Light
Lucas McGraw
Why Should The Father Bother?
Petraspective 1980-1983
The Coloring Song
Chameleon
For Annie
More Power To Ya
Judas' Kiss
Road To Zion
Not Of This World
Bema Seat
Godpleaser
Petraspective 1984-1985
Beat The System
Clean
Voice In The Wind
Hollow Eyes
Petraspective 1986-1988
Thankful Heart
This Means War!
He Came, He Saw, He Conquered
Get On Your Knees And Fight Like A Man
I Am Available
Don't Let Your Heart Be Hardened
Hit You Where You Live
Mine Field
First Love
Petraspective 1989-1992
Armed And Dangerous
I Am On The Rock
Creed
Beyond Belief
Love
Seen And Not Heard
Prayer
Destiny
Sight Unseen
Petraspective 1993-1997
Praying Man
Underneath The Blood
Believer In Deed
Marks Of The Cross
Just Reach Out
Enter In
Think Twice
Heart Of A Hero
More Than A Thousand Words
No Doubt
Right Place
Two Are Better Than One
Sincerely Yours
Think On These Things
For All You're Worth
We Hold Our Hearts Out To You
We Need Jesus
Be Of Good cheer
Scripture Index
Song Index
5
6
8
9
15
17
19
21
27
29
31
33
35
37
39
41
43
45
49
51
53
55
57
63
65
67
69
71
73
75
85
87
89
95
97
99
101
103
105
107
109
111
113
119
121
123
125
127
129
131
133
135
137
139
141
143
145
147
149
151
153
155
158
Release date

February-1997

Release

Standard Publishing ISBN 0-7847-0615-8

Other details

17.5 x 23 cm 160-page spiral-bound book
Edited by Dale Reeves
Cover illustration: Jeff Haynie
Cover and inside design: Franke Design Company
Additional interior design: Dina Sorn
Special thanks to Sherry Singletary for sharing her Petra memorabilia