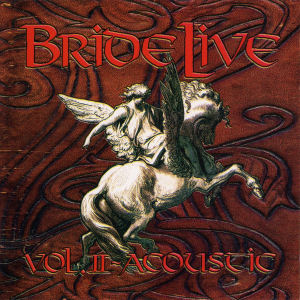 THE REST OF THE STORY
Hey, this is Doug Lucas and I would like to share some things about my good friends Dale & Troy Thompson. After being a Bride fan for several years, my personal relationship started with them on July-02-1997. I had worked with several other Christian bands over the years, and decided to call Dale up one day, and offer to take their merchandise to Cornerstone '97, where they were to perform that year on the HM stage for Doug Van Pelt.
From there, I started traveling on the road, helping drive and doing their merchandise. Then in January of '98, Troy asked me if I wanted to start booking some show? I agreed to do so and achieved great success, booking 25+ concerts for that year. This was the most dates booked for Bride in quite some time. People would ask my key to success, as to how I was able to book the band so fast with no previous experience! I simply replied... "Because I belive in the Ministry and music of Bride".
After a few months, I was recruited to the "Road Manager", as well. No one ever officially asked me to fulfill this position, it just kind of came with the territory. Eventually, I started designing T-shirts and making custom jewelry for them out of broken guitar strings. I ended up doing about everything but getting on the stage and performing. My son Douglas and myself got to be in the studio while oddities was recorded, and were able to take part in the video shoot for "Under The Blood", Dale often referred to me as "the fifth member of Bride". In the credits for "Oddities", Bride thanks me with: booking agent/driver/salesman/repairman/designer/and friend. This is quite an honor, as it all started out with me just wanting to give them a helping hand (Matthew 25:23).
I must say that traveling with Bride and being a small part of what God has done through them, was one of the most rewarding experiences of my life. I can recall so many times, where the Lord moved in a mighty way at concerts and such. While spending most of my time at the merchandise table, I heard comments and saw a part of the fans that the band never did. Fans would often say, "I love rock music. But when I got saved, I was convicted of the garbage I had and broke/burned all of my CD collection. I just accepted the fact, that I could never enjoy music again. Then one day, one glorious day... my friend turned me on to Bride. I actually benefit from music now, in a way I never knew existed". Fans have come to me, in tears, absolutely Praising God for the ministry and music of Bride. I also have had the opportunity to pray with many and make lots of friends over the years. Bride is a part of me that will never die!
It's almost unbelievable to see the Spiritual condition of some that came to our concerts. Being invited by friends, family, or maybe just coming to see a Rock Show? Whatever their original intention, hundreds have left, a changed person for life (both here and for eternity). Anyone that's ever been to a Bride show can testify about the anointing and presence of the Holy Spirit! Dale was called at and early age to preach the Gospel message to the world, and Troy joined him in that vision, as together they have pursued the call of God for over 15 years now.
Bride has ministered all across America and in several other countries as well. Playing to crowds well over 250,000 a night in Sao Paulo, Brazil, it's safe to say they have played some of the largest Christian concerts in the world. I think one of the most remembered things I witnessed while in Brazil, was hearing the fans sing most every word to the songs, while not being able to speak a word of English!
On a comical note, we had a lot of fun as well. Probably the funniest thing I can recall was one of my first trips going out with theband. We were coming back from a Festival in Georgia, it was pouring down rain and we were super low on gas. At the top of Mont Eagle, TN we pulled into a gas station to fill up. I won't mention any names in order to protect the guilty, but the person that gassed the car accidentally got diesel fuel. It was becoming a flood outside, and our gasoline van was now full of diesel. We ended up going to a nearby truck stop, getting a piece of rubber hose and siphoning the fuel tank bone dry. We bought gas cans to catch the unwanted fuel and that's where the real fun began. Everyone went to Hardees to eat afterwards except for the person that pumped the diesel. He was going to discard the cans and then come join the rest of us. So, we're standing in line to order our food, and I look out the window down over a big hill and see our other vehicle pull up, stop, and the electric trunk release open the trunk. The driver gets out, looks all around, then goes and sets all these gas cans out. He looks around again, closes the trunk and drives off. We all started laughing so hard; eventually the whole restaurant was looking out the window. We told him if he ever decides to do something crazy, he might as well figure on getting caught. We laughed for many months to come after that incident.
I truly thank God for allowing me the blessing and opportunity of working with such a band as Bride, making friends with them, as well as many others (maybe even you?). What you will find on this fine CD is something that Bride fans have long awaited... an "Acoustic Album". I trust you will enjoy and experience somewhat of a Bride concert. Please keep in mind; all the tracks are recorded live at different times and show to help ensure that feeling. Tell all your friends about Bride Live II and M8 Distribution. Thanks to Brad and everyone involved for this Great Album!
In Christ Jesus, Doug Lucas, Sr.
01 Everybody Knows My Name 4:46

02 Knockin' On Heaven's Door 4:59

03 Hired Gun 4:43

04 Sweet Louise 3:47

05 Show Them 3:09

06 (political statement) 1:10

07 Hell No 2:17

08 (christian rock statement) 2:51

09 Same Ol' Sinner 4:57

10 Rock Of Ages 1:57

11 Kiss The Train 3:45

12 Help 4:00

13 Young Love 3:18

14 Hollywood 3:12

14 tracks, 48:51