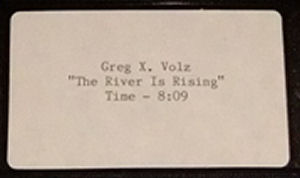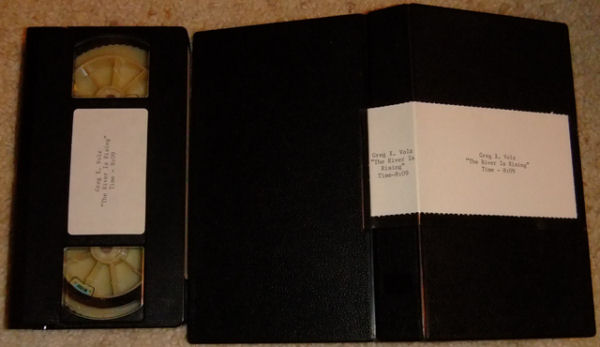 These are pictures of the original VHS release.




My VHS comes in a black hard VHS case and only has this label on the spine of the VHS.
8-minute promotional featuring 3 songs from "The River Is Rising": This 8-minute video profile features snippets of three songs and a full song from The River Is Rising with studio, family, scrapbook and church footage. Louie Weaver and John Lawry are also featured on this video.

The original VHS came in a black clamshell case, just like mine. My VHS only has a label on the spine of the VHS and it's different from the original label. So I'm not sure what to make of it. Is it original? Did the labels come off and did someone make a new label? Or is it just a home-made copy? I think it is original in some way, since the tape is the exact length of the program.

There is also a BETA release of this video.
00:00 The River Is Rising

00:56 Break Out Of The Trance (featuring John Lawry and Louie Weaver)

02:08 Livin' For The Bell

03:06 Joyous Grave (featuring John Lawry)

07:37 End credits

Total time: 08:07

Release details

1986
Recording produced by Jonathan David Brown and Greg X. volz
Audio edited by Jonathan David Brown
Produced and directed by Becky Volz
Post production directed by Eric Wyse and Becky Volz
Post production facilities: CGI, Ontario, NY
Editor: Rob MacGowan
Assistant editor: Cathleen Adams
Computer graphics: Chris Ventzos