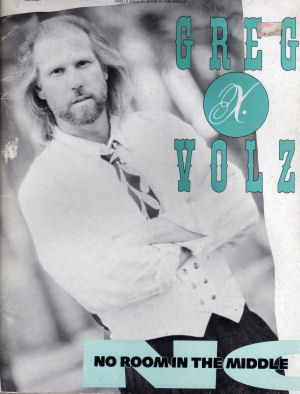 Greg X. Volz - Flashback
Born January 12, 1950 in Peoria, Illinois, Gregory Xavier Volz is the youngest of five children and one of the many musically talented cousins in the Volz/Goetz clan. Greg was influenced by a violin-playing father, a rock-n-roll singing, guitar playing brother, a classical singing aunt and uncle, a songwriting-guitar playing cousin, and the nun who slapped his knuckles for speaking out of turn. This young motivated German boy grew up playing ukulele, drums, guitar, bass, and vocal cords! A school Christmas program brought out the future in him at the early age of 7 when he sang harmony in a duet at St. Mary's in Metamora, Illinois. Show-And-Tell in fifth grade meant bringing in the tenor guitar and serenading the class. Then after a grueling summer of moving lawns, pulling weeds and de-tasseling corn, a hard earned $29.00 bought his first KAY guitar with all six strings at least a 1/4 inch from the neck!
Now we interrupt this musical history lesson to set the stage in the sports arena. You see, it was always muisc and sports, sports and music. Competitive sports started in the fifth grade with basketball and track & field. And even when the track coach quit Greg's eighth grade year, he kept practicing. Pole vaulting had started in his back yard with a bamboo pole jumping over low heights and those low heights turned into 12 feet earning Greg a varsity letter as a freshman in high school. And all during high school, he lettered in either basketball, football, or track. Later in life, he began golfing, but that's later.
Back to music. Greg was 13 when he started singing with cuzin' John. They bought their first Everly Brothers song book shortly before Beatlemania hit, then after 'mania,' the cuzin's named their first group "The Wombats" (you know, like the Beatles, warm fuzzie creatures) thus lauching the first Volz shuttle to the stage. While the shuttle was crankin', sports eventually took a back seat but only after Greg had set school records in 100-yard dash and 800 relay. Now that explains his energy and aerobics in concert, don't you think? Music? Well, the Wombats signed their first recording contract when Greg was 15. They later became Gidian's Bible, cut a few singles, charted in the Midwest, and changed their name again to "e." And like many young people in the '60's they were searching for Truth. The search eventually led to the Door, Jesus Christ, in 1970... and the rest of the story... is glorious!

This songbook also contains a photo section.
Gethsemane
Walk Toward The Light
No Room In The Middle
Love Moves In A Different Circle
The Carpenter
I'm Yours
Servants And Witnesses
Feelings
Frontline
Waitin' On Someday

1
6
13
18
24
28
33
40
47
58
Release date

1989

Release

River Publications 390 1300 007

Other details

Photo credits: Russ Harrington, Tony Baker, Mark Sutton, Nancy Demus, David Baugh