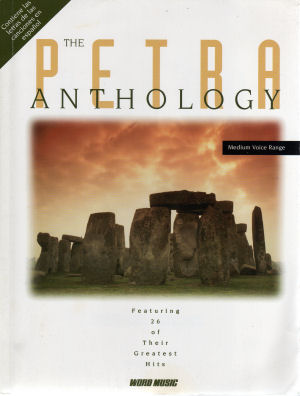 PETRA BIOGRAPHY

Petra. It means "rock". And for twenty years, in the contemporary Christian music world, the name Petra has been synonymous with just that.

Petra's two-decade journey has been made largely on the crest of the ccm wave, as their long list of distinctions bears out. Among other honors, Petra is Christian music's top-selling band, with over six million units sold; they were the first rock group to win the Gospel Music Association's "Group of the Year" Dove Award, the first group to win eight simultaneous CCM Magazine Reader's Poll Awards and continue to be the top-selling non-European Christian artist in Europe.

But to judge Petra by sales figures, audience size and radio chart success is to miss the true mission behind the band and their music. Petra was not born out of marketing genius or the desire to play great music. Rather, music is a means to and end for this band.

Assembled first in Ft. Wayne, Indiana, in 1972 by founding (and present-day) member Bob Hartman, the "radical" four-piece group quickly captured the attention of both their modest community and Billy Ray Hearn who, at that time, headed up Myrrh Records, one of the earliest contemporary Christian record labels. After watching them perform at a local coffee house, "The Adam's Apple," Hearn made them Myrrh's first rock band. Their debut recording was birthed in a small studio in southern Illinois with Hearn at the helm as producer.

Come and Join Us, their sophomore project, was three years in the making and hit street in 1977, boasting the song that would become an anthem for the growing number of contemporary Christian music enthusiasts: "God Gave Rock and Roll to You." It was this album that first featured lead vocalist Greg X. Volz who, though he hadn't yet become an official member, would later become the "voice" of Petra for the next six albums.

In 1979 Bob Hartman relocated to Nashville, ushering in a new era of Petra. It was there that he met Rob Frazier, who came on board for guitar and vocal work. When their drummer bowed out, Volz was once again called in; this time to play drums and sing some lead vocals in concerts. He would soon join the band as full-time front man. Washes Whiter Than began the band's relationship with Star Song records... a marriage that would span the coming decade.

Petra's third album, Never Say Die, released in 1981 and marked the beginning of their meteoric rise to prominence in contemporary Christian music. Christian radio, still in its infant stages, began to take notice, and was delighted to find some material on this project which they could embrace since it was less raucous in nature. One such cut, "The Coloring Song," would reach the #1 position on CCM's Rock, Contemporary and Inspirational radio charts, and even reached top five on Southern Gospel surveys. Additionally, "For Annie," with its sobering message of a soul eternally lost, became an underground classic at radio.

The 1982 recording More Power To Ya contains what is perhaps Petra's most memorable album cover. Its futuristic imagery, displaying a giant guitar-shaped space craft preparing for launch, was as symbolic of the band's career as it was cool. Propelled by strong radio support with songs such as the title cut and "Judas' Kiss," Petra hit the road for 285 days that year and further entrenched themselves as a strong ministry-based band. Youth groups came to concerts in droves, confident that they would be treated to great rock music with a worthwhile message.

As the 80's progressed, so did Petra's global ministry opportunities. The Not Of This World tour took them to Europe in 1983. Keyboardist John Lawry had joined the band for the tour, and God's call on him to become a full-time member was becoming evident. Following 150 dates of touring, he did indeed sign up, wasting no time making major contributions to the band's next album ... 1985's Beat The System.

Again the band toured hard; 275 dates with audience figures topping 500,000. Christian rock shows on radio stations had become more commonplace and this helped add to the band's popularity. But outside the rock arena, radio airplay was becoming more difficult to obtain. Beat The System boasted only one modest hit in "Hollow Eyes".

Star Song released Petra's one and only live recording in 1986. Captured In Time And Space brought the excitement and ministry of Petra's concerts into the home, and also displayed some innovative medleys of Petra standards as well John Lawry's keyboards acrobatics and a memorable voice-synthesized rendition of "Jesus Loves You."

That same year, Petra also released a studio album ... with some notable new faces involved. Most visible was new lead singer John Schlitt, who had fronted the secular band Head East before coming to know the Lord. His distinctive voice, stratospheric range, enthusiastic on-stage personna and - most importantly - his heart for young people made him the ideal choice for this crucial role.

Additionally, in their never-ending quest to stay at the leading edge of contemporary music's stylistic evolution, Hartman and his associates enlisted the talents of producers John and Dino Elefante. The result was a gritty, thick new blend of rock, infused with strong hooks and top-flight production values. Back To The Street caught on both with fans and with finicky radio programmers, who made the single "Thankful Heart" one of Petra's solid radio hits.

On 1987's This Means War Petra sounded the battle cry, encouraging young (and old) Christians to boldly proclaim their faith. Bob Hartman's song writing, a foundational element for the group since its birth, reached a new level on this project. Songs like "Get On Your Knees And Fight Like A Man" and "I Am Available" inspired a new generation of believers to take their relationship with the Lord beyond the church walls.

On Fire (1988) would be the last recording the band did for Star Song records, though their relationship with John & Dino Elefante would last through the transition to Word, Inc.'s Dayspring Records in 1989. Their first album with Dayspring, however, was a foray into a new concept, grounded in the band's central mission. Petra Praise: The Rock Cries Out showed that praise music doesn't have to be inaccessible to young people. The album contained familiar praise songs done "Petra style." Innovative companion products, such as a song folio and accompaniment tracks for youth groups, once again cemented Petra's reputation as a strong ministry resource for the youth of today. And an aggressive marketing campaign, including a one-hour radio special, helped call attention to their focus on ministry as well as the band's new relationship with Word.

Though their accomplishments up to this point had been quite significant, it would all prove to be preamble to what lay ahead. Nurtured by Word's strong distribution and marketing resources, Petra would reach new heights. Beyond Belief and Unseen Power, the two albums they released during this time, rank as two of their best-selling albums ever - despite the fact that these recordings are only a few years old. Petra would go on to garner two Grammy Awards and numerous Dove Awards between 1991 and 1993. Additionally, radio's support of the group would reach an all-time high, with numerous #1 singles. As a matter of fact, Petra became the first group to ever hold five simultaneous #1 positions on CCM's radio and retail charts in 1990 ... a feat not equalled since.

With these accolades came new opportunities for exposure beyond the Christian music world. In 1992 they took the stage along with some of pop music's finest for Farm Aid, and were also the first Christian band to be enshrined in the Hard Rock Cafe. Petra also made new in-roads in the growing field of music video, releasing numerous short-form clips as well as several long-form video, Backstage Pass and the "mini-movie" formatted Beyond Belief Video Album. And, on the ministry front, their innovative touring concepts linked them with notable speaker Josh McDowell for a one-two punch that would prove to be quite effective in challenging young people on real-life issues such as sexual pressures and living a lifestyle based on Biblical truths and values.

Currently touring in support of their latest album Wake-Up Call, Petra has just entered a long-term contract with Word that will continue to provide today's Petra fans with entertaining and inspiring products for years to come. How much longer they record or how many more albums are sold is not really at issue with Petra. "We're just taking this a day at a time," says Hartman. "It's a great way to live ... just doing what God tells us to do. This is a responsibility God has given all five of us. And that has always been understood."

Music may well be just a "means to an end" for Petra ... but for us, the listeners, what a joy the journey has been!
Petra Biography
Contents
Lucas McGraw
Lucas McGraw (Susana Allen)
God Gave Rock And Roll To You
Dios te dió el rock n' roll (Alejandro Allen)
Why Should The Father Bother?
Es lo que ha hecho Jesús (Alejandro Allen)
The Coloring Song
Es el color (Alejandro and Susana Allen)
For Annie
Roxana (Alejandro Allen)
Judas' Kiss
El beso de Judas (Alejandro and Susana Allen)
More Power To Ya
Poder recibes (Alejandro Allen)
Godpleaser
Agradar a Dios (Alejandro and Susana Allen)
Grave Robber
Ladrón de noche (Alejandro Allen)
Not Of This World
No somos de este mundo (Alejandro Allen)
Hollow Eyes
En sus ojos (Alejandro and Susana Allen)
Thankful Heart
Agradecido a Ti (Alejandro and Susana Allen)
First Love
Primer amor (Michele and Becky Baron)
Open Book
Libro abierto (Michele and Becky Baron)
Somebody's Gonna Praise His Name
Alguien adorará a Dios (Michele and Becky Baron)
I Love The Lord
Amo al Señor (Alejandro and Susana Allen)
Beyond Belief
Al má allá (Michele and Becky Baron)
Creed
Credo (Michele and Becky Baron)
Love
Amor (Michele and Becky Baron)
Prayer
Oración (Michele and Becky Baron)
Dance
Fiel (Alejandro and Susana Allen)
Hand On My Heart
En Tus manos (Alejandro and Susana Allen)
In The Likeness Of You
Paracerme a Ti (Alejandro and Susana Allen)
He's Been In My Shoes
El también vivió (Alejandro and Susana Allen)
Just Reach Out
Búscalo (Alejandro and Susana Allen)
Marks Of The Cross
De camino a la cruz (Alejandro and Susana Allen)
4
7
8
12
14
19
20
24
25
28
29
35
36
44
45
51
52
57
58
64
65
69
70
77
78
84
85
93
94
99
100
108
109
117
118
129
130
139
140
148
149
157
158
166
167
176
177
184
185
191
192
198
199
206
Release date

1994

Release

Word Music 301 0277 490

Other details

20 x 27.5 cm 208-page bound book
Compiled and edited by Bryce Inman
Printed by Davis Brothers Publishing Co., Inc., Waco, TX